Israel should exploit the expanding rift between Ankara and Tehran to normalize its relations with Turkey. This also could bring Turkey into the circle of countries supporting the Abraham Accords.
Turkey and Iran, the two non-Arab Islamic regional powers in the Middle East, are long-time imperial rivals. Given the devastating price of the conflict between the Ottomans and the Safavids, the two countries signed in 1639 the Treaty of Zuhab (Kasr-ı Şirin) and ended hostilities between them. However, both countries continued to act indirectly against one another in other theatres. Bilateral relations between the two soured after the 1979 Islamic Revolution in Iran. For decades Turkey has accused Iran of seeking to export its revolution, of conducting assassinations against Turkish secular elites, and of turning a blind eye to activities of the Kurdistan Workers' Party (PKK). Iran regarded Turkey's secular identity as a threat to its Islamic revolution, and protested Turkey's harboring of anti-regime Iranian dissidents.
With the eruption of the Arab Spring and the beginning of the Syrian civil war in particular, rivalry between the two countries has expanded across the region. Turkey has supported anti-Assad groups and the Free Syrian Army as well as the Sunni elements in Yemen. Iran has chosen to strengthen Assad and the Houthis in Yemen. Despite these disagreements, Iran and Turkey collaborated in circumventing US sanctions against Iran and limiting Saudi Arabia's influence in the Middle East. Bilateral relations are characterized not by historical rivalry and pragmatic cooperation.
This historical balance began to change in 2016 with Turkey's active intervention in the Syrian civil war and escalated further in 2020 when Turkey openly supported Azerbaijan in its campaign to recapture Nagorno Karabakh. Certainly, this act played a crucial role in changing the balance of power in the Caucasus. As a result of the decisive Azeri victory over Armenia, Turkey could return to Caucasus after a century. On December 10, Turkish President Recep Tayyip Erdoğan delivered a victory speech in Baku underscoring increased Turkish reach. Erdoğan eulogized the efforts of the legendary Ottoman War minister Enver Pasha who formed the "Ottoman Muslim Caucasian Army" which fought in the region in 1918. In the eyes of the Turkish nationalists the "Ottoman Muslim Caucasus Army" is seen as a proto-Pan-Turkic army.
If this Pan-Turkic reference was not enough to upset the Armenians and the Iranians, Erdoğan angered the Iranians even more by reading the Azeri folk song "The Song of the Aras River" (Aras Türküsü). By reading the lyrics of the song Erdoğan questioned Iranian sovereignty over "Southern Azerbaijan," a province of Iran, and called for its liberation.[1] The Aras river is seen by the Azeris in Iran as the symbol of the "Southern Azerbaijan." Given the fact that the Azeris constitute one third of Iran's population, Tehran took all these developments very seriously. As a result of these incidents Iran encouraged its citizens to protest. Hence Iranian citizens demonstrated next to Turkey's consulate in the city of Tabriz.[2] Furthermore, Turkey's ambassador in Tehran, Derya Örs, was summoned to the Iranian foreign ministry to hear Tehran's discomfort. Iranian Foreign Minister Javad Zarif even criticized Erdoğan on Twitter for reading the Aras song in Baku.
The tension between the two countries further increased when the Turkish intelligence agency MIT conducted an operation against an Iranian cell in Turkey which resulted in the arrests of 11 Iranian agents. Turkey accused members of the Iranian cell for abducting the Iranian opposition figure Habib Farajollah Chaab.[3] In the shadow of this tension, on January 29 Iranian Foreign Minister Javad Zarif paid a visit to Turkey and met with President Erdoğan and his Turkish counterpart Mevlüt Çavuşoğlu. While Zarif was offered by Erdoğan a cold welcome, Çavuşoğlu expressed Turkey's willingness to cooperate with Iran, particularly regarding the effort to persuade the US administration to reinstate the Iranian nuclear deal (the JCPOA). Zarif praised cooperation between the two countries in the Caucausus. Nevertheless, Turkey's success in opening a corridor from the Azeri enclave Nakhchivan that borders Turkey to Azerbaijan via Armenia, decreased Iran's strategic importance in Turkish. Turkey no longer needs Iranian favors for having a territorial link to Azerbaijan. Turkey became connected to Azerbaijan via Nakhchivan and managed to open a direct channel to the Central Asian Turkic states through Azerbaijan and the Caspian Sea. (See map.[4])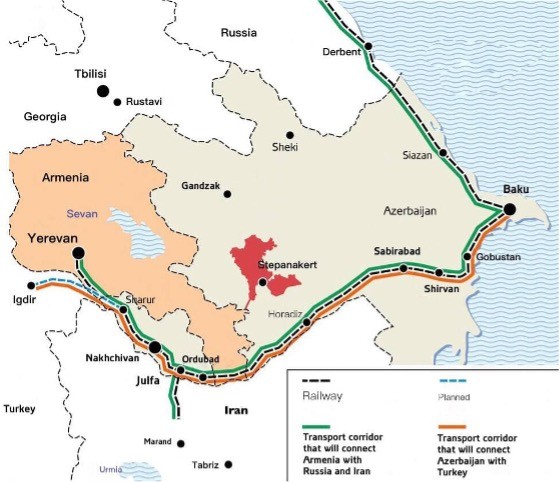 Iran's headaches with Turkey are not only the result of Ankara's penetration into Caucasus. Turkey under Erdoğan also became a key player in Iraq and Syria. Since 1984 Turkey is conducting extra-territorial military operations in Iraq to eliminate the PKK elements. Since then, Ankara has launched 17 operations against the Kurdish organization. However, the ongoing "Operation Claw" (Pençe) that was launched on May 28, 2019 seems to be very different from Ankara's previous campaigns. For the first time Turkey decided to remain in the territories that it drove back the PKK elements. Ankara established military bases along the Turkish-Iraqi border on the Iraqi side. Turkey's recent failed rescue mission that sought to retrieve its 13 soldiers from the PKK captivity in the Gara region that is located 35 km. distance from the Turkish-Iraqi border is also signaling that Ankara may penetrate further into Iraq. Since north Iraq is under the control of the Kurdistan Regional Government (KRG), Turkey's operations could not be realized without some understanding with this entity.
PKK elements that are in the Sinjar and Qandil mountains in Iraq already have accused the KRG with treason. To be able to resist Turkey's forays, 1,500 PKK members have joined the ranks of the Iranian affiliated Shiite militia in Iraq, "al-Ḥashd ash-Shabi" (Peoples Mobilization Forces). Thus, Iran and the PKK have forged an informal alliance against the Turkish-KRG block.
According to reports from the field, as a precaution against a possible Turkish operation in the Sinjar area, al-Ḥashd ash-Shabi deployed three military formations to the outskirts of the city of Sinjar and to the Sinjar mountain.[5] Moreover different Shiite factions that are collaborating with al-Ḥashd ash-Shabi, such as Asa'ib Ahl al-Haq. Harakat Hezbollah al-Nujaba criticized the Iraqi government for not responding the Turkish threats over Sinjar. Another Shiite faction, Ashab Al-Kahf, even chose to escalate the situation by sharing video footage of rockets launches against Turkey's Bashika base in Iraq.[6] These responses send a bold message to Turkey. The Iranian-affiliated Shiite organizations even launched a rocket attack against the city of Erbil, the capital city of the Turkey backed KRG. A group called Saraya Awliya al-Dam claimed responsibility.[7]
Apart from Iraq, the tension between Turkey and Iran may also escalate in Syria. Since 2016 Turkey conducted three extra-territorial military campaigns in northern Syria and managed to take control of Jarabulus, Afrin and Tel Al-Abyad-Ras Al-Ayn regions. Moreover, while not having a direct control on the elements in the field Ankara is also sponsoring the Hayat Tahrir Al-Sham (HTS) affiliated fighters in Idlib against Assad regime. Turkey opposes the Assad regime, engaging in a war of attrition against Russia and Iran. Ankara is seeking to get rid of Assad and to replace him with a leader that will protect the rights of the Sunnis in Syria.
The interests of Tehran and Ankara are clashing in Syria. The statement by the Iranian advisor to the foreign ministry Ali Ashgar Khaji's declaring Iran's opposition to the existence of "foreign military forces" on Syrian territory summarizes this rift. Haji went on and emphasized Syria's territorial integrity.[8] Iran desires to turn Syria into its protectorate.
The tensions extended to another arena. On February 12, Turkish police took another significant step and arrested Muhammad Reza Naserzadeh an Iranian diplomat in Istanbul. According to the Turkish press the arrest that took place at the Istanbul Airport was connected to the 2019 assassination of Iranian dissident Masoud Molavi Vardanjani in Istanbul.[9] Tehran unsurprisingly rejected the accusations.
Considering the emergence of new areas of tension and increasing conflicting interests, Turkish-Iranian bilateral relations are deteriorating further.
Implications for Israel
As the only country threatened with annihilation by Iran, Israel should exploit the rift between Ankara and Tehran to normalize its relations with Turkey. This certainly requires of Ankara to end to its verbal attacks against Israel and its support for Hamas. The implementation of such confidence building measures could realize "genuine normalization" (with an emphasis on genuine) between the two countries and could pave the way for cooperation in the eastern Mediterranean. Israeli Energy Minister Yuval Steinitz's recent invitation to Turkey to participate in the Eastern Mediterranean Gas Forum is a concrete positive signal from Jerusalem to Ankara..[10]
Apart from the eastern Mediterranean, Turkish decision makers should understand that "genuine normalization" with Jerusalem could help Ankara mend fences with other regional actors like Egypt, Saudi Arabia, Bahrain, and the United Arab Emirates. Ankara will be able to join the Abraham Accords block, whose main agenda is containment of Iran. Such a policy change will end Turkey's regional isolation, and to some extent will improve its position in the US, too.
---
[1] Cumhurbaşkanı Erdoğan Aras türküsünün sözlerini okudu: Ay Lâçin, can Laçin, men sene kurban Laçin, Yeni Şafak, December 10, 2020, https://www.yenisafak.com/video-galeri/dunya/cumhurbaskani-erdogan-aras-turkusunun-sozlerini-okudu-ay-lcin-can-lacin-men-sene-kurban-lacin-2213339 [Accessed: February 21, 2021]
[2] Erdoğan'ın okuduğu şiirTürkiye'nin Tebriz Başkonsolosluğu önünde protesto edildi, Euronews Türkçe, December 12, 2020, https://tr.euronews.com/2020/12/12/erdogan-n-okudugu-siir-turkiye-nin-tebriz-baskonsoloslugu-onunde-protesto-edildi [Accessed: February 21, 2021]
[3] Son dakika… MİT'ten İranlı ajan operasyonu: Zindaşti'nin 11 adamı yakalandı, Hürriyet, December 14, 2020, https://www.hurriyet.com.tr/gundem/son-dakika-mitten-zindasti-operasyonu-11-kisi-yakalandi-41687996 [Accessed: February 23, 2021]
[4] In Maps: Transport Corridors and Military Situation in Nagorno-Karabakh Region, South Front, January 13, 2021, https://southfront.org/in-maps-transport-corridors-and-military-situation-in-nagorno-karabakh-region/ [Accessed: February 24, 2021]
[5] "Haşdi Şabi'den Şengal'e askeri takviye", Sol, February 14, 2021, https://sol.org.tr/haber/hasdi-sabiden-sengale-askeri-takviye-26071 [Accessed: February 21, 2021]
[6] "Gara: Irak operasyonları Türkiye ile İran arasında gerilime yol açar mı?", BBC Türkçe, https://www.bbc.com/turkce/haberler-turkiye-56106886 [Accessed: February 21, 2021]
[7] "Gare operasyonu öncesi ve sonrası: PKK – İran ilişkisi tartışılıyor", Sol, February 15, 2021, https://sol.org.tr/haber/gare-operasyonu-oncesi-ve-sonrasi-pkk-iran-iliskisi-tartisiliyor-26131 [Accessed: February 21, 2021]
[8] "İran Dışişleri: Suriye ve Türkiye arasında ilişkilerin kurulmasını istiyoruz", Sputnik Türkiye, February 14, 2021, https://tr.sputniknews.com/ortadogu/202102141043809543-iran-disisleri-suriye-ve-turkiye-arasinda-iliskilerin-kurulmasini-istiyoruz/ [Accessed: February 21, 2021]
[9] "İranlı diplomatın yurt dışına kaçmaya çalışırken yakalanmasına ilişkin görüntülere ulaşıldı", AA, February 12, 2021, https://www.aa.com.tr/tr/turkiye/iranli-diplomatin-yurt-disina-kacmaya-calisirken-yakalanmasina-iliskin-goruntulere-ulasildi/2143268 [Accessed: February 21, 2021]
[10] "İsrail Enerji Bakanı Steinitz: Türkiye Doğu Akdeniz Gaz Forumu'na katılmak isterse memnuniyet duyarım", AA, January 23, 2021, https://www.aa.com.tr/tr/dunya/israil-enerji-bakani-steinitz-turkiye-dogu-akdeniz-gaz-forumuna-katilmak-isterse-memnuniyet-duyarim/2120380 [Accessed: February 24, 2021]
---
JISS Policy Papers are published through the generosity of the Greg Rosshandler Family.
---
Photo: Bigstock